If you are a surfer or in the business of surfing and don't yet know of this resource then let us give you a few quick details and if you need to contact them there is a form below which will allow you to reach them instantly.
Their Mission
The mission statement says it all....they want to be the "number one Surf website in Ireland".
Certainly they are going the right way to achieve that goal and are growing at a steady rate of knots under the steering of Stephen Peers a keen conservationist and holder of the President's award for leadership and commitment to the environment.
Get Your Surfing Service Listed Now
The site is young and is blown by the winds of enthusieism that are carrying it along at a pace, so who is it for?
In a nutshell it's for anyone who has an interest in surfing, be it surf schools, shops, equipment hire, camps, in fact the whole shebang.
Important information and news articles complete with photo galleries tie it all altogether in a simple but effective format that is a 'must see' for the surfing community.
In time Surf Safari will definitely in our humble opinion evolve into the leading site in its niche delivering the goods across the world of surfing.
So hop aboard and tell them we sent you, let's all help in making it work as it can only be good for the economies of towns that benefit from surfing throughout Ireland.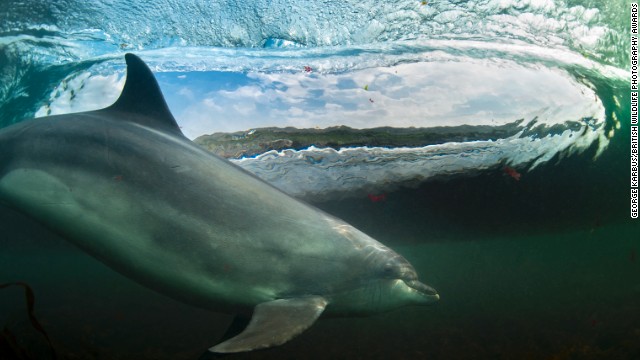 London (CNN) -- The British Wildlife Photography Awards 2013 are celebrating the beauty of Great Britain's nature.
A photo of a dolphin surfing in the waves off Northern Ireland is this year's overall winner. Titled "In the Living Room," it was taken by photographer George Karbus, a Czech photographer who is based in Ireland.
Karbus was diving with his camera off the coast in Northern Ireland when he spotted a bottlenose dolphin. "I've had quite a few encounters with dolphins there before but that day I was just looking to capture some underwater rolling barrel shots when I got a present of this incredibly playful dolphin, which joined me for some underwater body surfing for a few waves and then left," he said of the winning picture.
"My favorite place on Earth is Ireland," he said. "After nine years of living here I still get amazed by its coastal beauty and everything it has to offer."
Other pictures include owl chicks peeking out of a tree hole, tiny fungi in front of massive trees, eerie underwater world inhabitants, and a deer in a housing estate.
The photographs are exhibited at The Mall Galleries in London until September 7. A book featuring all images from the awards will be published later in September.
The British Wildlife Photography Awards were established four years ago to recognize the talents of wildlife photographers working in Britain and raise awareness for the country's biodiversity and habitats.
Sean Mallen, Special to National Post | 13/06/24
Sean Mallen is Europe Bureau Chief for Global National
Living and surfing off the grid in NW Ireland with Colin Ritchie
Colin Ritchie is one such human. Originally from Scotland, Ritchie moved to Ireland in 1999. Like others before him, he came over in a campervan on a surf trip, scored and just...stayed. He had served a carpenter apprenticeship under his father as a teenager, so was able to make a living working with wood in all kinds of various ways -- furniture, construction sites, stairs, etc -- while keeping a very active winter surf travel schedule. (Not much happens on building sites in Ireland in winter.)
When time came to settle with wife FĂ©ile Butler in 2008, the pair decided to design and build a cob house a mile back from Easkey, one of Ireland's best and most consistent surf zones. Butler, an architect, designed the structure while Ritchie ended up making most of the place from scratch: milling up windfall trees to make door frames, door leafs, window boards, stairs, kitchen units; mixing cob; making earth plasters. The whole process took about three years. The end result is part country cottage, part surf shack and part Alice in Wonderland.
Surfline caught up with Ritchie during a late Irish spring day after a "long, not-very-good" winter.
How'd you get started with the cob construction?
On my friend's house down the road. He's a surfer as well, so we actually found ourselves surfing all day and he'd come back with more friends with about six or seven bottles of wine. We worked late into the evening and came to have a few glasses of wine and it'd be 1:00 in the morning, and then came to go surfing the next day. The house just evolved. It happened very slowly and it came to grow. It's good when there's no rushing a job because you can really take your time and make the best out of the wood.
And you decided to build your own place?
Not right away. We bought the land, went traveling, came back and lived in a caravan on it, and it was nearly two years before we even started designing anything. FĂ©ile wanted to live on site for a whole year to see all the seasons before she designed anything. We bought a little puppy dog and life was cheap and easy, so there was no rush. I built everything and FĂ©ile designed everything. She actually asked me what I wanted out of the house. And I just said I want to feel like I'm outside when I'm inside. That was pretty much all I said. She definitely got that. I'm sitting at the dining room table just now and you definitely think you're outside -- which is great for Ireland because there's a lot of gray days and light is a bit of an issue. Here, even when it's raining, you're almost sure the sun's going to come out.
And it's all mud walls?
Yeah, well the walls here are just mud mixed with straw. Two feet thick. There's not that much straw, the straw just goes through like a tensile strand, like the fibers in fiberglass. And then on the inside it's all plasters, which we mixed.
How'd you get the mud?
When we excavated the foundations, when we dug the muck for the big rocks and the drainage stone to set, there was more than enough mud for the walls.
How is it to work with?
When it's in the garden, it stays like mud. But as soon as you build it into walls, it changes. It'd turn back to mud if water gets in from above, but if water hits the face of the wall, it just tends to run down. Almost like a waterproof layer. It holds up amazingly. There are actually Cob houses in SW England that are 500-600 years old -- literally thousands of them. They're really durable.
What was your surfing life during construction?
I prefer surfing early, and so by the time I get home FĂ©ile and the kids wouldn't even be up yet. There's a really mellow crew here that go for the early, and it's not actually busy. I know in California if you go early it's still pretty busy. And I don't know whether it's the weather or the Guinness, but the early morning isn't so packed over here.
How did the construction process go?
We worked through the foundations in the wintertime, which is all stonework in the bottom of the foundations. And there is a building season around here for the mud to set - "from when the swallows arrive to when the swallows leave" -- because that's when you've got good drying through those months.
And you made pretty much everything by hand?
I made all my own doors, all my own stairs, all of my own kitchen, all the beds, all the window seals. There was an old school getting demolished, so I basically stripped all the flooring and the roof timber out of the school and we built with that. Even milling the trees up, milling the trees and stacking them and drying them. It was actually three years to build, total. We had two children in that time as well so there was a lot going on.
How did you go about designing the interior?
Because the walls are so thick in the house, you can carve into them and create bookshelves, all kinds of stuff. Even the light fittings themselves are molded out of mud. We actually have a passive wind fridge. We don't have an electric fridge. It's all about creating airflow. I don't think you could do it in California because it's probably a bit too hot. But that's our only fridge and it works great. And we have composting toilets and it's all rainwater harvest and that's our only source of water. But in Ireland, I guess rainwater harvest is not a problem.
How would you characterize the unique shape of the place?
Everything just came to curving and dropping in at different angles. The curves in the roof match the trees and the hills and the mountains. The trees are so sculpted by the wind here; they kind of don't look like normal trees. The west side's definitely kind of battered. The branches almost get kind of swept up towards the east with the prevailing winds.
How do people react to it?
It's just so tactile. You just want to touch it. Quite a few people have been in the house and actually said it feels like "being in a hug." Which is not a bad thing. Even with all the windows, it's just very cozy. And there's no square corners; everything flows.
Order How Green Was Their Wave – The Dawn of Surfing in Ireland by Kevin Cavey
This is the story of the Dawn of Surfing in Ireland and up to when its organizers finally achieved the running of the European Surfing Championships in Lahich 1972. Much of this would not have happened but for the efforts of one person and several courageous friends.
This nostalgic story comprises of 180 pages and 22 photos relating to the sport when it was hammered into reality by one ambitious youth attempting to live the dream. He knew lots about the Hawaiian Islands, sunny California and thus yearned to make his Ireland in their image. This meant expanding the sport and putting Ireland on the map of surfing nations – and that is just about what happened!
As he went, the young man gathered adventurers of both genders, who also shared the dream. Together, they mounted an exhibit at the Irish Boat Show in 1966, and from there the sport expanded to international acclaim. The story tells of his epic trip to the Hawaiian Islands and his competing in the world Surfing Championships in San Diego and about Irish Surfers on the beaches of Biarritz and Jersey C.I. The many clubs that evolved from these first efforts brought about the need for an all Irish body to promote and control the sport. Therefore the Irish Surfing Association was formed providing immense benefit to all Ireland Surfing teams competing in contests overseas.
The story tells of the people who responded to the call, and just how proficient these surfers became. Also, the book tells many comical yarns from the lands folk the Surfers encountered as they went, and finishes with the Silver Surfari. This was the occasion in 2006, when all the remaining pioneers, came together to celebrate forty years of the sport. They returned from Africa, California, Australia, England and around Ireland, to put on a grand display of surfing on the beaches at both Lahinch and Rossnowlagh known as the home of Inter county Surfing.
The book has been written just in time, and before the passage of time becomes stretched beyond the horizons of memory. It is good to know who these icons as they were the ones who gave the youth of Ireland an appetite for the sea, to become fit beyond belief, and to surf waves of all sorts no matter 'How Green' they might be!
Welcome to Ireland's first real surfing magazine. 'Tonnta' in the native tongue means 'Waves'. Our mission statement is simple – publish a quality magazine devoted purely to the growing number of Irish men, women and children happily pursuing the ancient and noble art of riding waves on surfboards. In doing so we will continue to uncover all sorts of coastal-related stories while exploring what it means to be an Irish surfer today. We also present profiles, stories and images from the seashore that reflect the unique aspects of Irish surfing, as well as its history, heritage and culture. And we feature regular articles and updates on various issues that affect the Irish coastline with expert opinions from qualified people. Items of interest from the international surfing world are also included. A full-colour glossy magazine, Tonnta is available four times a year at Eason's outlets, good surf shops and adventure stores throughout Ireland.
Irish wave-rider and photographer make surfing 'Oscars' shortlist
Co Sligo roller competing against monster 'tubes' off Hawaii and Fiji for Billabong XXL award
Peter Conroy surfing the wave, off Mullaghmore Head, which earned him and photographer Roo McCrudden a nomination for the Pacifico Tube of the Year category in the Billabong XXL Awards. Photograph: Roo McCrudden
A leading Irish wave-rider and a "big surf" photographer who captured one of Sligo's infamous waves off Mullaghmore Head have been shortlisted for a prestigious global award.
Co Clare man Peter Conroy (34) from Miltown Malbay and Portrush photographer Roo McCrudden (23) are among the top five nominees for the Billabong XXL "tube" of the year.
Known as the "Oscars" of surfing, the Billabong XXL awards will be presented in San Francisco next month.
Mr McCrudden photographed Mr Conroy riding his surf board in a "tube" created by a large wave breaking over Mullaghmore reef in January this year.

Atlantic versus Pacific
The Atlantic wave is up against Fiji's "Cloudbreak" and Hawaii's notorious Pe'hai or "Jaws" for the prize, worth $5,000.
This is the second time the Sligo coastline's wave formation has featured in the awards, but the first shortlisting – last year Irish surfer Ollie O'Flaherty was nominated for his skill off Mullaghmore during the "Viking storm" conditions of March 2012.
Conroy, who works as a fireman in Phibsborough, Dublin, told The Irish Times he had no idea how big the wave was until McCrudden showed him the photographs of it afterwards.
"It wasn't a particularly big swell, and wind was a bit iffy, but we decided to go out and try it," he said, having studied isobar charts and weather buoy data in detail the night before the surf.
"We were using jetskis to tow-in, and I was with Ollie O'Flaherty at the time," he explained.
"The wave is usually double the size of you, and you don't quite know what it will do until it breaks over the reef underneath – sometimes it will throw a 'barrel' or 'tube', and sometimes it will just crumble.
"The first wave I caught smashed over me, and then this second one created a barrel which I managed to catch, and Roo got the photographs from his jetski." he said.
"It doesn't always even depend on the size of the wave, as there were lads who surfed a bigger swell than us the week after, but didn't get such a good barrel."

'Out of nowhere'
Mr McCrudden, who is based near Mullaghmore in Bundoran, Co Donegal, and whose surfing images have been published internationally, recalled that the wave "came out of nowhere".
"There had been quite an inconsistent swell, and it was a strange sort of day," he said.
Mr Conroy is an award-winning amateur surfer and a veteran of Co Clare's notorious "Aileen's" wave system. His wave ride shortlisted for this year's Billabong XXL can be viewed on YouTube.
The shortlist is the second international success this month for Irish surfing.
Last week Irish windsurfing champion Dr Katie McAnena of Galway became one of the first women on record to ride Hawaii's famous "Jaws" wave formation.

billabongxxl.com
Irish Surfing Magazine
Drift Surfing is the new incarnation of a once modest British magazine.  Now exclusively online, the idea is to create an open venue for shared creative output, focusing on what's happening both in and out of the water. We seek out the perspectives of innovators, instigators, inventors and icons in hopes of gaining a broader perspective on the continually changing culture surrounding surfing.
The waters and the wild
Wave rider: Fergal Smith surfing Aileen's at the Cliffs of Moher.Photograph: Mickey Smith
SURFING: Keith Duggan weaves a tale of hope, friendship and community
Cliffs of Insanity By Keith Duggan, Transworld Ireland, 272pp. ÂŁ14.99 
I GREW UP and learned to surf on the northwest coast of Ireland at a time when surfing was still mostly considered a lunatic pursuit, and it was certainly not something you could make a living at. But change was in the air. Wetsuits improved for colder climates, and information technology and advanced surf forecasting created new possibilities. By riding heavy waves a few brazen souls began to show the world Ireland's potential as a surfing destination. Lifestyles began to change in Ireland's golden era of ridiculous wealth. People had more time to enjoy themselves, take breaks and head to the beaches and seaside towns where surf schools were rapidly springing up. It was no longer a pursuit reserved for lunatics; surfing had joined the mainstream.
Keith Duggan's book is further evidence of the growing popularity of surfing in Ireland, but it wasn't always so. There was a time, captured in the writings of the maritime historian and political activist John de Courcy Ireland, when Ireland had turned her back on the sea, yet even then a few brave souls with boards under their arms were heading into the unforgiving Atlantic surf.
Duggan, a sportswriter for this newspaper, chronicles the history and evolution of Irish surfing very engagingly. As with the old Irish art of storytelling, Duggan gives voice to the characters he meets so that we can experience surfing in Ireland through their eyes. These surfers live on the fringe, inhabiting that space between the rock and a hard wave, where the sea meets the shore, hurling its power and might at the land, carving its story into the rock. The identity of these surfers is also shaped by the waves they ride. They are driven by a passion to pursue a challenging vocation, one that is raw and unglamorous, set against the icy waters of the Atlantic.
The waves, too, are given an identity by the surfers who ride them; given names and characteristics, each with its tastes and needs. Ireland's noted position on the world stage of big-wave surfing is driven by the performances of a small but dedicated band of surfers pioneering waves previously thought untouchable.
The book explores the relationships between the members of one such tight-knit group of surfers, mainly based in Co Clare, whose lives are shaped by the wildness of the Atlantic. The setting for much of the action is the Cliffs of Moher, those 200m "cliffs of insanity", and the otherworldly surf break Aileen's, or Aill na Searrach, at their foot.
The story is largely centred on two main characters who have done much to progress Irish surfing: Fergal Smith, a young Mayo man whose talent and passion for big-wave riding have earned him an international reputation, and Mickey Smith, a dedicated waterman from Cornwall who discovered Aileen's and whose stunning surf photography of Ireland's seascape has captured the energy of the sea in a way not seen before. Ultimately, Duggan weaves a story of hope for an island nation on its knees. The story is set in a time when Ireland's youth are abandoning their windswept homeland in the North Atlantic, swapping it for far-flung places like Australia, the sunshine and "surf capital" of the world. This band of surfers remain steadfast, however, and the story weaves around their pursuits in their wild Atlantic playground.
Duggan does not glamorise and is quick to point out that this "playground" can quickly become a battleground. The book is full of close calls and bone-crunching injuries, battling bitterly cold elements and near drownings. Everyone has their scars, and all it takes is a moment's hesitation between the inhalation and the exhalation. As one of the surfers, Tom Doidge-Harrison, notes, "you have this moment of glory followed by pain quite rapidly. That's how it goes, isn't it?"
All too often surfing is portrayed as the stereotype of lazy days spent in the sunshine, cruising tropical waves in a showy display of masculine prowess. This book holds up a mirror to the reality of surfing and the sea in Ireland, highlighting the way the ocean can take as well as give. All those connected to the sea know it as a source of such pleasure and also unimaginable sadness.
Duggan presents a rare and intimate window into a little-understood world. The ocean and the art of wave riding run so deep in our veins that when you ask a surfer to describe what it feels like we struggle to put it into words. Surfers are caught in the moment of it all; it is an intense feeling, a sensation, not some abstract concept or notion.
Duggan is uniquely positioned as an "outsider" looking in, and he captures what it is that drives these surfing souls, describing it as "an elemental pull". It is as if surfing has unintentionally become a coping mechanism for life's ills, instilling virtues of respect, patience, commitment, discipline, joy and, in the context of this group of surfers in Co Clare, and perhaps the rest of Ireland, the importance of friendship and community.
Ireland's surf culture remains unique despite the rapid change and commercialisation of the sport. Although the surf is becoming increasingly crowded, etiquette and mindfulness are still held in high regard, and it is the role of the older generation and those held in high esteem to pass these values on.
Because they were following their passion in life, the lives of these surfers remained unchanged by the so-called Celtic Tiger and remain relatively unchanged by its collapse. Mickey Smith describes it in his short film Dark Side of the Lens as "living a life worth scraping". Despite the almost romantic sense of freedom it gives, this lack of security, Duggan says, makes its own demands; as Smith notes, it is both a blessing and a curse "Most folk don't even know who we are, what we do or how we do it, let alone want to pay for it."
Duggan's book heralds a new era for Ireland in which, perhaps, the way out of the madness lies in turning to face the sea once more. As a surfer, I was enthralled and felt that tugging sensation become an urgent call to get back into that wild Atlantic myself. As an Irish person it gave me hope, pride and a hefty respect and awe for the boldness of this way of life and the individuals who are constantly pushing the boundaries of what is possible by simply doing that which they value most in life.
Waves have been crashing on our shores since time immemorial, and we are just passing through.